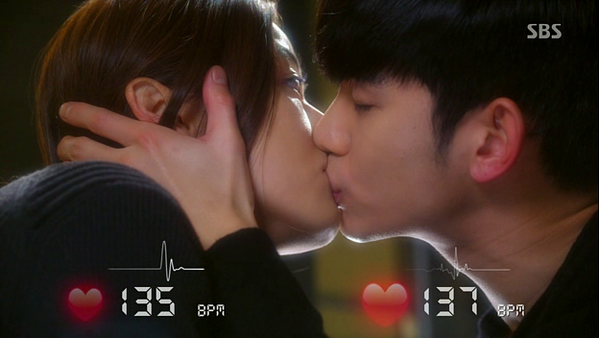 This is not a drama review… this is just me wanting to share the goodness that is in this drama. This drama is on the list for the review, once it's finished obviously.
So, I have been reading lots of good reviews from this drama and also that the ratings are like up to the sky. I got all the episodes now and I wanted to check out if it's any good, and like just like that I watched till episode 8. So now I'm in major trouble because I watched till episode 10 and I don't want to push forward anymore because they wont air episode 14 till Feb 5 (can you believe that?!) but the good thing is, 20 will air on a Wednesday so there might be a possibility of an Episode 21… (/fingers crossed)
Also, I got the OSTs for the drama and my goodness they are addicting!!! there are only 4 at the moment : 안녕 by Hyorin, 별에서 온 그대 by Younha, 별처럼 by K.Will and My Destiny by Lyn and the one I'm obsessing about is 안녕 [and that's the BG playing when I took the shot there… :">] I wasn't really planning on seeing this but like it's so good and I'm just at the half part… okay before I fangirl.
It's a pain to wait for episodes, I have a LOT of experience with episode waiting so I don't recommend doing it. Just watch clips or something but the OSTs are a must get!! See you again when I review this drama lol ^^v [and can I just say… THAT KISS IS LIKE DSKFNSDLKNADLKANDSLFKANSDLFKN KIM SOO HYUN PLEASE STOP IT. okay… I think im good]